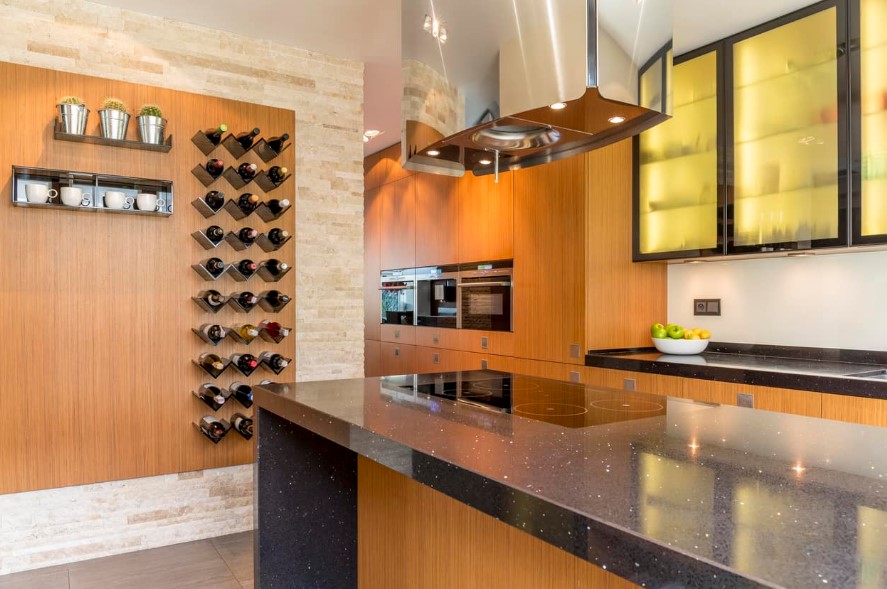 As a wine lover, you need a wall-mounted wine rack to store all your wine in one place. In case you want to purchase wall wine racks and you don't know where to start, this article will help you with this because we are going to outline some of the wall racks you can get for your home. If you don't want to purchase one, you can get someone to construct a frame for you. The options in the market are so vast that you can lose focus on the type of shelf you want. But always look at your sense of style and the amount of money you have. 
Some of the wine racks you need to purchase for your home include the following;
1. Glass shelf
If you are into rustic chic designs, this glass shelf is the best for you, and the best place to place it is in the kitchen or your living room. This shelf is appropriate for people who are starting their wine journey because this rack holds a maximum of eight bottles only.  Something you need to be conversant with is that some wines typically need a stemmed wine glass which you can place on your glass rack as well. 
2. Circular 12-bottle mounted wine rack 
This particular design goes well with industrial people. The name suggests this rack holds twelve bottles and is excellent for your loft. The wine rack is quite archaic, and it will also wow your guests because of its incredible design. 
3. Blade wine rack 
Blade wine shelves are great for people who want a shelve that covers the whole wall. With this shelf, you can display various types of wine without any problem because it can hold a lot at once. You can customize your rack as well by using Nickel and matte black. But you don't have to base your decision on this alone since you can think of any other colour to be used as a base for your shelf. 
Benefits of using a wine rack 
1. It's simple to use 
A wine rack in your home is the best solution since it's easy to install and ensures all your wine glasses are in one place. Once you have purchased your wine rack, the next step is to buy enough wine to fit all the available frames. 
2. Placing wine in a refrigerator is a mistake 
Everyone thinks storing wine in the refrigerator is the solution for it to last long, but this is not the case. If you want your wines to taste to last, you should make sure you store your wine appropriately. What is the best way other than keeping your wine in a wine rack? 
Conclusion 
Wine lovers need to know how to store wine appropriately, and in this article, we have outlined some of the best wine racks to consider when putting up your wine shelves. We have also talked about some of the benefits of having wine shelves. With this knowledge, you should avoid storing wine in the refrigerator and use the proper methods.
Related Posts