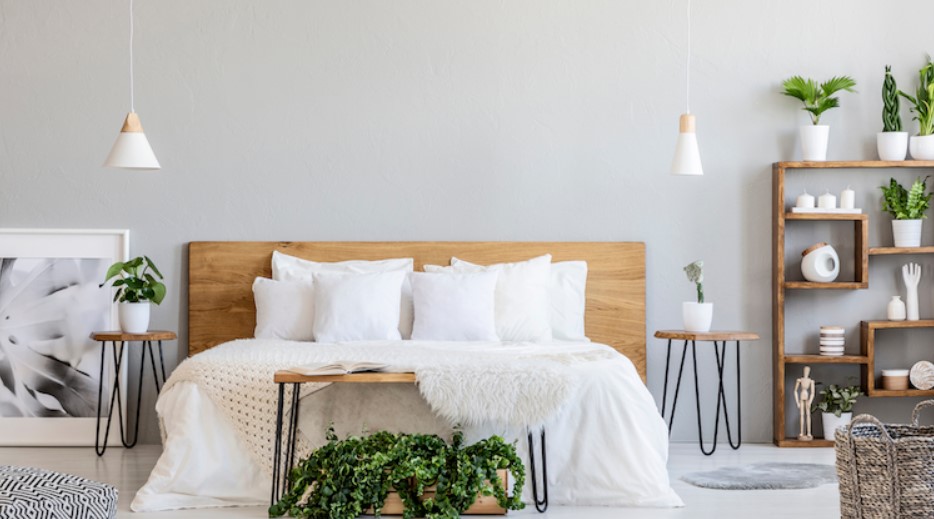 Like close family members or good friends, proximity may, at times, make you very oblivious to subtle alterations. The same applies to your bedroom when looking to spruce it up.
Whether you have been living in the house for decades or just for two months, you can consider the following ways to update your bedroom to look new:
1. Improve Your Pillows
Overfilled and plump pillows are the gold standard in fancy hotels. So consider bringing the same appearance to your home. To achieve this, overstuff your throw cushions to appear high-end. Many stylish always do this by getting inserts, which are bigger than their pillow covers. For instance, if you have 20-inch square pillows, consider buying 22-inch inserts.
If you are also looking to replace sleeping pillows, find those that are lofty and thick. Plus, avoid skimping on the number of those sleeping pillows to ensure you don't go crazy when piling them on.
2. Go Green
Green and lush plants can easily freshen up your home. Just have indoor plants delivered to your home and put them on a small vase. You can put them on your nightstands to bring warmth to your bedroom.
From cute and tiny to sprawling and large indoor plants, there are many options you can choose from. And the best part is that you can choose different kinds of succulents if you don't have a green thumb.
3. Rearrange the Furniture
This may sound like a no-brainer. However, if you get bored with the current layout of your bedroom and have enough space to shuffle things up, consider moving your pieces of furniture around so as to change the feel of the room. You can also use wardrobes to frame your bed for a striking effect.
4. Create a Gallery Wall
You may create a gallery wall if you don't have enough cash to buy wallpapers. This won't just give your room a stylish appearance. It will also make you feel great.
But ensure to follow a particular theme when displaying mementos and pictures. For instance, if you want to achieve a cohesive appearance, some black frames will do the job without a problem.
5. Change the Linens
People's styles change. So it is also expected that their tastes for linens will change. Because preferences and trends change as well, it can be easier to add some flair with new comforters. If you don't know where to start, choose a new teal and grey set of comforters from reliable stores like Wayfair.
6. Provide Proper Lighting
A home can be boring if its bedroom's ceiling is adorned with light bulbs encased in frosted glass bowls. If your home has such, consider swapping them with something more spectacular. Even when you choose not to change anything else in the room, bold ceiling fixtures will give your bedroom an immediate panache.
The Takeaway!
Most bedroom projects range from extravagant to simple. However, if you like getting crafty and want a luxurious appearance without spending a lot of money, you can always opt for DIYing aspects, such as installing new hardware or painting the mirrors.
Related Posts