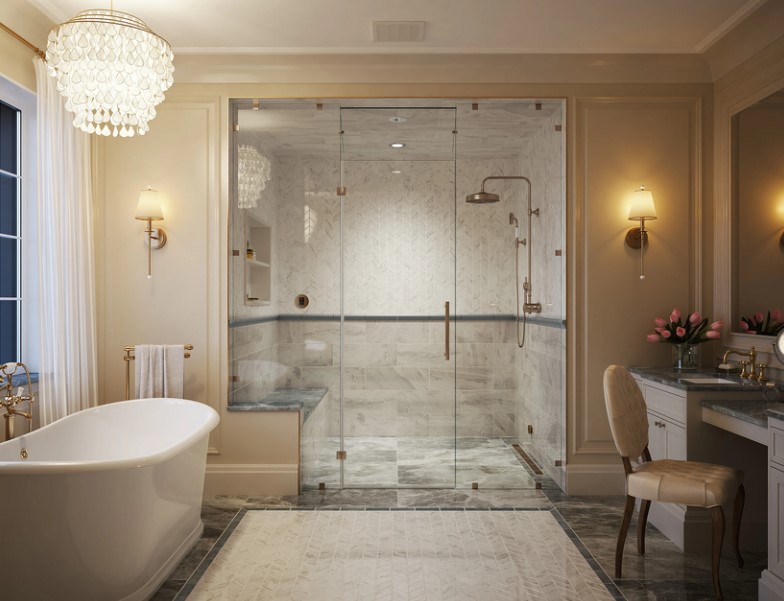 Having a steam shower at home is a goal for many people, but getting started can seem overwhelming. If you've decided to take the plunge but don't know where to begin, the following tips can help you get started.
Know What's Necessary
First and foremost, you must understand what you absolutely need in order to build your steam shower. This comes down to two basic things: a steam generator and a steam-proof shower. You'll also need somewhere to sit. If you have enough space, you can add a bench, but you can also use a small chair if space is an issue.
Plan Professional Help Where Necessary
You are welcome to take the reins when building a steam shower, but there is one area where it's best to hire an electrician. Most steam generators need a 240-volt plug, a dedicated circuit breaker, and a 40 amp line.
Also, it's best to have a GFCI plug for safety, and most generators need to be within 25 feet of the shower. Have an electrician make sure all of this is in order, then you can go back to setting up your dream steam shower.
Think Through Materials
In order to have a steam-proof shower, you really have to think through the materials. It's typically best to ask the manufacturer for help in this area, as the materials you choose can have an impact.
Some things to remember include:
Walls should be properly insulated
The ceiling should be sloped
Any light fixtures should be designed for steam showers and plugged into a GFCI power source
The floor should be sloped toward the drain
Tile should be non-porous
The shower door should fit the proper measurements and be caulked in order to be watertight
Plan Ample Time
You're probably really excited about jumping into your steam shower, but it's important to make sure you do it right. If you don't, you could end up with more of a headache and even some damage to your home.
As you plan out your steam shower, be sure that you plan plenty of time for each step. The length of time needed will depend on how much you need to do to your space. For example, if you already have a non-porous tile, it will take less time than if you need to add it.
Also, remember that you will need to caulk your shower door and around the light fixtures. You should allow at least three days for the caulk to dry before you put it to the test.
Prioritize the Extras
There are many additional things you can get for your steam shower, including expensive showerheads, aromatherapy infusion, entertainment systems, and more. Your initial budget can quickly be destroyed if you don't prioritize the features that are most important to you.
Related Posts